How to Become a Sports Agent
Sports agents are more than negotiators: they are mentors, advocates, and strategists who play a crucial role in the success of an athlete's career. They must be able to navigate the complex maze of sport rules and regulations while also being capable of finding innovative solutions to fulfill clients' needs. Sports agents are confident communicators who, once they gain the trust of their clients' inner circle and the support of external associates, ensure successful careers for athletes of all levels.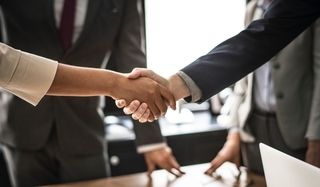 This is a challenging career that is incredibly rewarding for those who are passionate about sports and helping athletes succeed. The agents who truly thrive in this field have a finely tuned ability to understand their clients' goals and the strategies to make those aspirations a reality.
What Does a Sports Agent Do?
Behind every lucrative contract or headline-making deal is difficult behind-the-scenes work — but it's work that agents thrive on.
"I think the most exciting part about being an agent is that there is never an 8-5 job in this business," Agent Adie von Gontard told Forbes in a recent interview. "Your job is always working to be innovative."
Sports agents need to be able to take on a multitude of roles to bring in new clients and serve existing ones. Let's look at a few of those key responsibilities.
Contracts
Negotiating contracts is a key responsibility of a sports agent — and the core source of an agent's income — so it makes sense that contract negotiations get the most attention. An agent not only advocates for the best possible terms for their clients, including salary and benefits, but also helps their clients understand the terms, conditions, and stipulations that they are agreeing to follow.
Besides the main player contract, agents need to be able to navigate other agreements, such as endorsement deals and media contracts for appearances and interviews, as well as performance bonus clauses and personal conduct agreements.
Financial Representation
Once an agent has successfully negotiated a contract and secured a salary for their client, their focus shifts to managing this new income. Agents may advise the athletes directly or coordinate with financial advisors to be sure that their clients are making the right moves with their money.
This includes short-term investments as well as long-term growth plans. Keep in mind: while high-profile salaries make headlines, the majority of athletes earn comparatively modest pay. When you consider the relatively short lifespan of an athletic career, it becomes clear that agents may need to be ready to talk retirement planning with young athletes.
Legal Representation
There's a reason that sport law is a core course in sport management programs: agents and anyone handling athletes must have a strong understanding of the legal structures, statutes, cases, and standards that govern contract negotiations, restrictions on the use of a player's likeness, whether injured athletes are eligible for worker's compensation, and more. If a client does encounter legal issues, the role of the agent morphs into that of an advocate as they assist their client in securing legal counsel.
Sponsorships and Endorsements
Sponsorship spending in sports has reached billions of dollars globally. An agent's networking and marketing skills can help their client tap into this revenue source, and their negotiation skills can ensure their client is getting the best deal possible. Agents can also help vet possible partners in order to make sure the sponsorship partner is in line with both their client's personal brand and their personal beliefs.
Marketing
How do you get those endorsement deals to come your client's way? You need to cultivate demand and interest — that's where marketing comes in. While a sports marketer may promote an entire team or league, a sports agent shines that spotlight on a single athlete. An agent's responsibility is to build their client's unique brand, identify strategic opportunities, and leverage their networking skills to set-up beneficial partnerships.
Social media plays a huge role in marketing athletes, and an agent can help their clients ensure that they have a strong online presence that is consistent across multiple platforms. They can also keep an eye on their client's posts, making sure that they are following the standards and agreements set by their contracts and league(s).
Media and Public Relations
Dealing with the media is a common duty for sports agents. These interactions can be positive brand-boosting appearances, or not-so-positive, like when the need arises to handle damage control. For example, an agent might get the opportunity to arrange a high-profile interview or secure a spot at a well-known charity event. Unfortunately, they might also find themselves orchestrating a strategic response to a public relations situation, which might involve bringing in an outside crisis management or PR team.
Scouting
While scouting is traditionally associated with team recruiters and coaches, you, as a sports agent, should also keep an eye out for emerging talent. Spotting potential early on could give you a headstart on successful athlete-agent partnerships down the line.
Name, Image, Likeness

Agents have long been responsible for navigating sponsorships for pro athletes, but now the landscape has expanded to include collegiate athletes. In just a few short years, a billion-dollar market has emerged for name, image, and likeness (NIL) rights, where the most notable student-athletes can bring in half-a-million dollars per social post.

Agents who work with college athletes must be ready to guide new players through the gauntlet of endorsement and sponsorship opportunities — all while operating within rules that change from state to state.
Support and Well-Being
As you can see, the relationship between an agent and an athlete goes far beyond simple contract negotiations and brand endorsements. It is a partnership based on trust, understanding, and genuine care for the athlete's wellbeing in all aspects of life.
Sometimes the most important service that an agent provides is being available. Whether it's offering advice, providing emotional support after a tough game, or simply lending an ear, an agent's role extends into being a reliable confidante and ally for their clients.
Nicole Lynn, who negotiated the highest-paying NFL contract of all time, told the Sports Agent Blog that having a true passion for helping players was one of the top three most important skills an agent must have. Similarly, Agent Matthew Leist told the blog that "the best agents and agencies are the people who stick by their client every step of the way, no matter what."
Average Sports Agent Salary — What to Expect

Being a sports agent can be highly lucrative, but the field is also highly competitive. The average annual sports agent salary nationwide is around $79,400, according to the labor database Lightcast (a figure that also includes those who manage artists and performers as well).

Most agents work on commission, however, so numbers can really vary based on the success of their clients. For example, the Houston Chronicle estimates that an MLB agent could earn anywhere from $16,000 to $4 million annually.

Aspiring sports agents must understand that it is not enough to break into the field — you must be ready to put in the work to nurture relationships, build a strong network, and stay ahead of industry trends and opportunities to remain successful in this fiercely competitive arena.
BECOMING A SPORTS AGENT: SIX IMPORTANT STEPS
Let's address this up front: there is no single, predetermined route to becoming a sports agent. The dynamic and evolving nature of the profession means that some agents will succeed via different pathways. However, there are some common stages that aspiring agents typically move through.
Get a degree: Graduate programs in sport management can help aspiring agents secure internships and make new connections. They can also connect grad students with a school's athletic organization, where students can see the inner workings of the end-to-end collegiate sports environment. If they choose a school that's well-known for their athletics, aspiring agents can learn from the athletic programs' successes: they can observe how they manage their programs, recruit and develop athletes, interact with the media, and more.

Keep in mind that if you want to get certified by a particular players union, many require a master's degree if you don't already have several years of relevant experience. For example, the NFL Players Association (NFLPA) requires either an undergraduate AND postgraduate degree (master's OR law) from an accredited college/university or at least seven years of negotiating experience.

Gain experience: Before you can become an agent, you'll need to gain experience in the sports industry in general and in the area you want to specialize in. Even if you've spent time playing the sport, you need to understand intricate business and legal aspects. Plus, you'll add new connections to your network, which is crucial for success in this industry.

While you're in school, take every advantage to complete internships, job shadow, or attend industry events or conferences. Some programs will even give course credit for internships and other career-building activities.

Get certified: In some cases, you'll need to become certified to represent players in contract negotiations. These certifications are usually provided by the players' unions of each professional sports league. For example, the National Basketball Players Association (NBPA), the Women's National Basketball Players Association (WNBPA), and the Major League Baseball Players Association (MLBPA) are a few examples of unions that provide certification. These usually involve an application process, a background check, an exam, and sometimes a face-to-face interview.
Choose agency or independent: You'll need to decide whether you want to join an established sports agency or embark on an independent path. An agency can provide access to an established network and support from other in-house agents. Going solo offers greater autonomy, allowing you to shape your career and client roster more directly. Consider your personal strengths, career goals, and tolerance for risk when making this decision.
Build your roster: Once you're certified, the next step is to acquire clients. As you can imagine, this is the most challenging part of becoming a sports agent. You have to convince athletes to trust you with their careers. In order to establish that trust, you must have a clear plan for their development and show that you have the connections, skills, and confidence to help them succeed.
Keep networking: In a competitive landscape, every connection counts. Agents must be able to maintain strong relationships with team executives, sponsors, and other agents. They should also extend their network into related industries, which can include the media, PR agencies, legal professionals, the health and wellness industry, and nonprofit or philanthropic organizations.
Your network should extend beyond the most obvious and high-ranking contacts to include people in less visible roles — they often have unique insights and information that can be valuable. If you have a reputation as someone who treats everyone with respect, you can open doors and create more opportunities.
Bonus step — keep learning: The sports industry is constantly evolving. As an agent, you must continue learning and stay up-to-date with industry developments. This could involve attending sports law seminars, participating in workshops, or even just keeping up with industry news. It can also involve taking sport management courses to fill in knowledge gaps and ensure you stay up with the ever-changing demands of the industry.
Take every opportunity to maintain an edge. Just as an athlete crosstrains to maximize their abilities, aspiring and established agents who equip themselves with a diverse skill set and experiences gain a competitive advantage.
How to Find Out More About Sports Agents and Sport Management
This article is just a starting point in getting to know a complicated, exciting industry; it's impossible to cover everything you need right here. For those who would truly like to learn the business of managing athletes, the University of Florida offers an online Master of Science in Sport Management that gives aspiring leaders a comprehensive understanding of the business of sport from a university famous for its athletic programs.
Frequently Asked Questions
How do I become a sports agent in Florida?
To become a sports agent in Florida, we recommend that you follow these steps:
Get a degree:Graduate programs in sport management can help aspiring agents secure internships and find opportunities to make new connections.
Gain experience: To become a sports agent, you'll need to gain experience in the sports industry in general and in the area you want to specialize in.
Get licensed: You must complete and submit an application for licensure to the Florida Department of Business and Professional Regulation and pay a fee ($630 for new applicants, $505 for reinstatements) to get your license in state. Details and instructions on where to mail your application are included in the application.
What skills do sports agents need?
Sports agents are more than just contract negotiators and business experts. They are also tasked with being an athlete's mentor, advocate, and strategist. Therefore, not only must they understand the intricate maze of sport rules and regulations, but they need to be effective communicators who can gain the trust and support of their client, their client's inner circle, and external associates.
The best agents are those an athlete can come to not only when it is time for a new contract, but also when they need a calming and reassuring presence after a tough loss.
What kind of education do sports agents need?
While there are no standard education requirements for becoming a sports agent, many agencies expect sports agents to have at least an undergraduate degree in sports management or a related field. Some pro leagues require agents to have a master's-level degree to become certified.
The advantages of a sports degree like a graduate program in sport management is that it gives aspiring agents an in-depth education in the business of sports and can also help them secure internships and find opportunities to make new connections. A more comprehensive sport management curriculum also develops leadership abilities while building specific knowledge of areas like sports marketing and sport law.
What other careers are available with a sports management degree?
A sports management degree allows people enthusiastic about the chance to work with professional, collegiate, or recreational athletics to pursue careers in a variety of disciplines.
These include:
Athletic Coach
Athlete Development Specialist
Athletic Director
Business Development Coordinator
Contract Administrator
Contract Analyst
Corporate Partnerships Manager
Director of Operations
To learn more about the careers a sports management degree can provide you, read our article on "Careers With a Sport Management Degree."
About UF's Online M.S. in Sport Management
The online Master of Science in Sport Management from University of Florida readies students to take on complex financial and administrative challenges in the world of sports. The comprehensive sport management curriculum can help you develop your skills as a multifaceted, multi-talented professional who is ready to break into the field of sport representation.
Through core courses that include Sport Marketing and Management and Leadership in Sport and electives such as Sports Sponsorship, Sport Psychology, and What Drives Winning Leaders, you will gain in-depth knowledge of the business of sports.
Students can choose to build their own academic experiences by selecting five courses (15 credits) from our array of elective offerings. This allows students to create a unique curriculum that fits their interests, ensuring that their educational journey is strategically aligned with their professional goals. You'll also have the option to choose from four pre-designed specializations including:
Athlete Development was created especially for those who want to work directly with athletes to successfully balance the demands of their sport with the demands of living a lucrative and productive life off the field.
High Performance Coaching is intended for students who wish to pursue positions in managerial coaching or athletic administration, showing them how to foster the best performances in athletes.
Sport Law teaches lawyers and administrators about legal principles that can have important applications in the world of athletics, including insurance, real estate finance, insurance, and fair competition.
Director of Racquet Sports is ideal for racquet sports enthusiasts seeking leadership roles. Whether you aim to run a racquet sports business or oversee a country club or league, this concentration equips you with vital skills in sport management, program development, sport marketing, budgeting, human relations, and more.
Students can also choose to build their own academic experiences by selecting five courses (15 credits) from our array of elective offerings. This allows students to create a unique curriculum that fits their interests, ensuring that their educational journey is strategically aligned with their professional goals.
Request Information
To learn more about the University of Florida's online masters in sport management and download a free brochure, fill out the fields below. You can also call (877) 665-3860 to speak to one of our Academic Assistants about the program.
*
All Fields are Required. Your Privacy is Protected.
The University of Florida respects your right to privacy. By submitting this form, you consent to receive emails and calls from a representative of the University of Florida, which may include the use of automated technology. Consent is needed to contact you, but is not a requirement to register or enroll.