Careers With a Sport Management Degree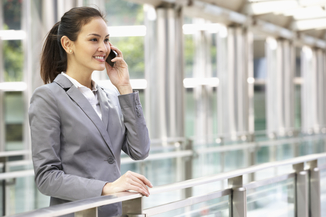 "The world is changing a lot," says University of Florida Athletic Director Emeritus Jeremy Foley. "Not everyone wants to attend [sporting events] in-person. There's an entire culture around watching them on TV. People need to be aware of those shifts and how to be successful as the habits of fans change."
One way to stay both up-to-date and competitive in the field is with a master's degree in sport management.
Additional education in sport management can strengthen not only your career, but the careers of the athletes and teams you work with. The field is multi-faceted and may involve coordinating events, coaching, working in finance, or working in marketing, to name a few. Everything from major league franchises to club teams require personnel capable of fulfilling a wide variety of functions.
In addition to gaining industry experience, acquiring an advanced degree in sport management from a program with specialized paths such as athlete development and high performance coaching, could help you achieve your desired career goals.
Salaries for Careers in Sport Management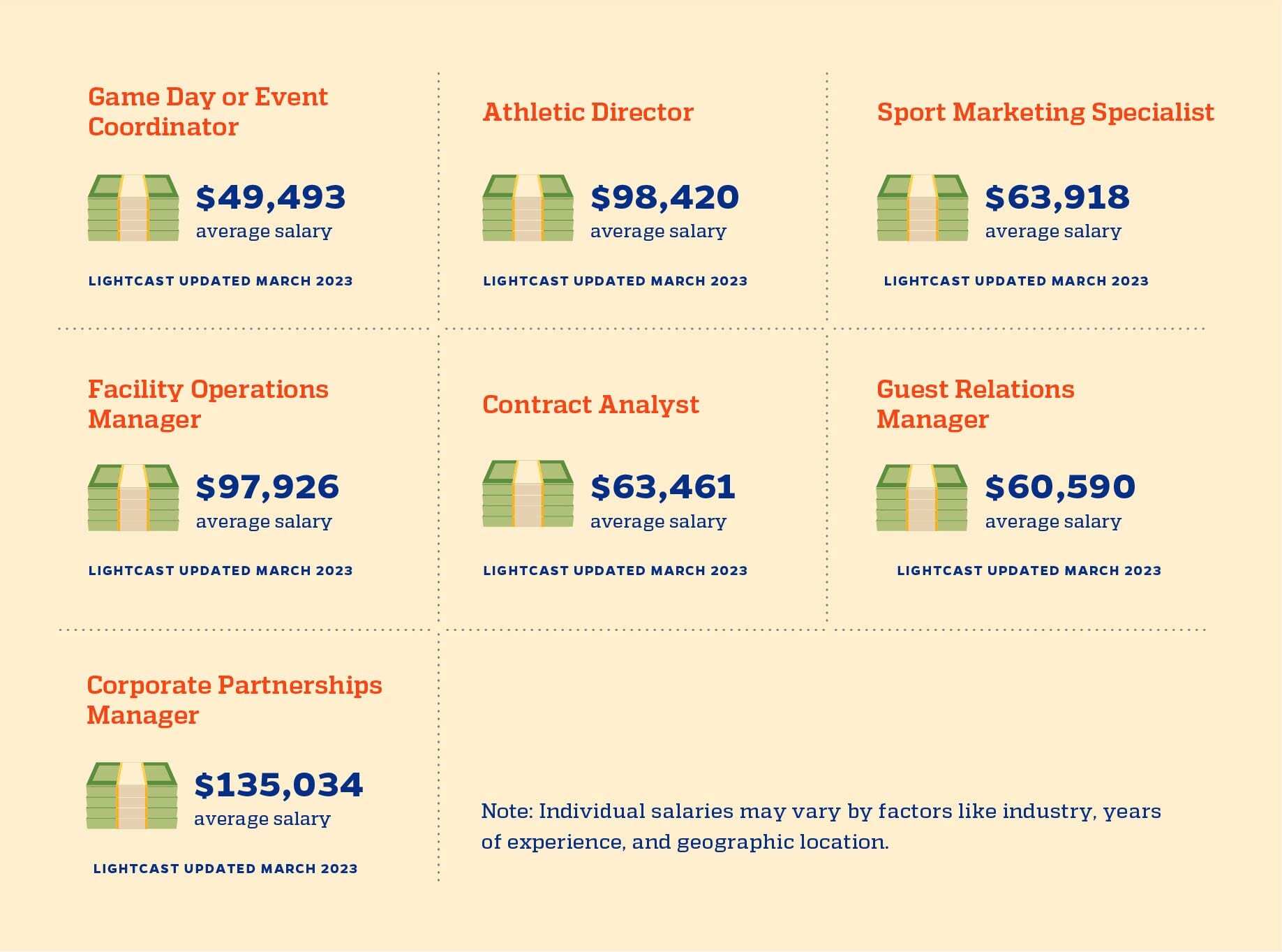 Individual salaries may vary by factors like industry, years of experience, and geographic location.
Top Jobs In Sport Management
Athletic Coach
Athlete Development Specialist
Athletic Director
Business Development Coordinator
Contract Administrator
Contract Analyst
Corporate Partnerships Manager
Director of Operations
Facility Operations Manager
Fitness Manager
Game Day or Event Coordinator
Guest Relations Manager
Marketing Consultant
Marketing Coordinator
Operations Manager
Public Relations Manager
Sales Coordinator
Sport Agent
Sport Lawyer
Sport Marketer
Careers with a sport management degree attract professionals from a variety of disciplines who are enthusiastic about the chance to work with professional, collegiate, or recreational athletics. Professional sport organizations require employees with many of the same financial, operational, and marketing skills as any other business. However, an aspiring sport manager should also have a thorough knowledge of issues that are unique to the industry. In addition, a sport manager with a specific focus within the field acquired through a sport management degree could find themselves in a more marketable position.
Financial professionals in sport must draw on their understanding of concepts like athletic valuation to negotiate player and vendor contracts. For marketers, the challenge isn't just to sell the product but to bring in attendees. Marketing professionals might also be responsible for coordinating a franchise's external communications, like using social media to facilitate the close bond between local fans and their home team. These are issues that demand a specialized set of skills beyond the typical corporate environment.
Specializations
One way to gain these skills is to seek out an advanced degree that allows you to specialize, like the University of Florida's Master of Science in Sport Management program. Below are the areas that you can specialize in within the program:
Athlete Development is an emerging area of expertise with tremendous potential to benefit both athletes and those who want to assist them.
High Performance Coaching has a focus on enhancing athletic performance by improving understanding and application of cutting-edge science.
Sport Law is for those who want to learn more about the laws that govern numerous aspects of the sport industry.
Director of Racquet Sports is perfect for tennis professionals who want to transition into leadership positions.
You can also choose from two certificates:
Sport Event Management gives you the tools you need to plan and coordinate sport events, from local events to global competitions.
Social Media gives working professionals the opportunity to gain an introduction to various social media platforms and new areas of mass communication technologies.
Jobs With A Sport Management Degree
Here's a breakdown of promising sport management jobs and crucial challenges that you can find in the sport industry, along with average salary information compiled from Lightcast.
Game Day or Event Coordinator
$49,493
These organized, dynamic professionals oversee all the essential elements that go into effectively promoting, executing, and broadcasting a sporting event. Often acting as liaisons between fans, the venue, and management, game day coordinators help to create a lively, energetic environment and ensure that the event is a pleasant experience for all attendees.
Athletics Director
$98,420
Athletic directors are often the central decision makers in sports organizations, responsible for supervising nearly every facet of a franchise, team, or club. Anything from ordering equipment to hiring and firing staff can fall within their purview. Their job can also involve ensuring compliance with changing legal regulations, particularly in the collegiate setting.
Sports Marketing Specialist
$63,918
Sport marketing professionals focus on both creating buzz surrounding the franchise or organization they serve and managing sponsorships that may affect the team's brand. Overall, their mission is to promote the team, its players, and whatever other stories or assets draw public interest, increasing sales and strengthening the voice of the organization. Organizations of all kinds rely on experts who communicate powerfully through both digital and traditional media. Those who are interested in a sport marketer position could benefit from getting a certificate that focuses on social media in sport management.
Facility Operations Manager
$97,926
Leaders in this field effectively apply the available resources to maintain and improve an athletic venue. They may be responsible for managing construction contractors, hiring custodial employees, organizing ticket sales and entry, and coordinating emergency response plans. One way to develop this diverse set of management skills is with a certificate that focuses on sport event management.
Contract Analyst
$63,461
As with any business, sports teams and franchises aim to be profitable and fiscally responsible. Considering that much of the company's capital may involve athlete salaries and vendor agreements, these professionals may be called upon to examine the terms of a pending contract and ensure it reflects the organization's best interests. One way to gain more insight into the laws that govern the sports industry is with a sport management graduate degree with a Sport Law specialization.
Guest Relations Manager
$60,590
The guest relations manager ensures that fans have a positive experience with every member of a venue's customer service staff. They coordinate with employees to check that everyone adheres to organizational policies. When any disputes or difficult situations arise, the manager takes the lead in finding a resolution.
Corporate Partnerships Manager
$135,034
Sport organizations frequently work with corporate partners to promote a product or service in exchange for initial or ongoing fees. The corporate partnership manager oversees these relationships, discovering new opportunities, developing agreements, and supervising their execution. Other types of partnerships in sport may include details with media outlets, such as exclusivity agreements for broadcasting rights.
To learn more about jobs in sport management, download our free sport management career guide. You'll discover some of the most rewarding opportunities in the field and find out how you can build the skills you need to excel in these roles.
About UF's Online M.S. in Sport Management
The online Master of Science in Sport Management from University of Florida readies students to take on complex financial and administrative challenges in the world of sports. The comprehensive sport management curriculum can help you develop your skills as a multifaceted, multi-talented professional who is ready to break into the field of sport representation.
Through core courses that include Sport Marketing and Management and Leadership in Sport and electives such as Sports Sponsorship, Sport Psychology, and What Drives Winning Leaders, you will gain in-depth knowledge of the business of sports.
Students can choose to build their own academic experiences by selecting five courses (15 credits) from our array of elective offerings. This allows students to create a unique curriculum that fits their interests, ensuring that their educational journey is strategically aligned with their professional goals. You'll also have the option to choose from four pre-designed specializations including:
Athlete Development was created especially for those who want to work directly with athletes to successfully balance the demands of their sport with the demands of living a lucrative and productive life off the field.
High Performance Coaching is intended for students who wish to pursue positions in managerial coaching or athletic administration, showing them how to foster the best performances in athletes.
Sport Law teaches lawyers and administrators about legal principles that can have important applications in the world of athletics, including insurance, real estate finance, insurance, and fair competition.
Director of Racquet Sports is ideal for racquet sports enthusiasts seeking leadership roles. Whether you aim to run a racquet sports business or oversee a country club or league, this concentration equips you with vital skills in sport management, program development, sport marketing, budgeting, human relations, and more.
Students can also choose to build their own academic experiences by selecting five courses (15 credits) from our array of elective offerings. This allows students to create a unique curriculum that fits their interests, ensuring that their educational journey is strategically aligned with their professional goals.
Request Information
To learn more about the University of Florida's online masters in sport management and download a free brochure, fill out the fields below. You can also call (877) 665-3860 to speak to one of our Academic Assistants about the program.
*
All Fields are Required. Your Privacy is Protected.
The University of Florida respects your right to privacy. By submitting this form, you consent to receive emails and calls from a representative of the University of Florida, which may include the use of automated technology. Consent is needed to contact you, but is not a requirement to register or enroll.