Sport Management vs. Sports Administration – Choosing a Master's Program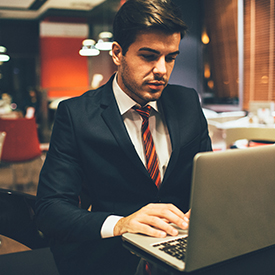 If you've done some research into master's degrees in sports business, you've likely noticed that there are several different terms used to describe academic programs in the field. There are master's programs in sport management, master's in sports administration, even MBA programs with a concentration in sports and athletics. This can make it challenging to choose the correct credential for you at-a-glance.
Thankfully, each of these terms refers to largely the same practice – learning to oversee the elements of sport that are essential to maintaining a strong athletic organization. Everything from facilities management to brand marketing to financial analysis can fall under the purview of sport management, just as it can be considered sports administration, or sport business.
What is Sports Management?
As mentioned above, the terms "sports management" and "sports administration" typically refer to the same profession and are often used interchangeably. That said, the confusion regarding how these terms are used is easy to understand. The term "management" might bring to mind the more business-oriented careers in sports. Marketing for athletic organizations, boosting ticket sales, seeking sponsors, developing business relationships with local communities, facilities management, and public relations might all fall under this umbrella. Accounting, financial management, and human resources may also spring to mind.
Sports teams and franchises are, first and foremost, businesses. They have a product to sell, revenue streams to maintain, and budgets to balance. That means that standard corporate skill-sets, when enhanced by specialized knowledge in the sport business, are all essential to their organization's success. These critical roles put crowds in seats and keep income flowing into the team, which makes it possible for the organization to enhance one of its most important assets: the talent.

What is Sports Administration?
The other side of the profession, the one focused on the management and development of athletes, is what many people might (at first) associate with "sports administration". Team managers, coaches, agents, and trainers would fall on this side of the spectrum, working directly with talent to optimize their performance. Whether its managing rosters, signing new talent, honing skills, representing athletes in contract discussions, or helping them develop personally and professionally, effective talent support is critical to any franchise.
The important thing to note is that both of these facets of sport management/administration work closely together to create an experience that connects with fans. When these two sets of functions work together, a team can truly perform at its best–both on the field and in the books.
While these terms all refer to (fundamentally) the same skill-set, each master's program is unique, and should be evaluated accordingly. When choosing your graduate program in sport management, it's important to focus less on the title of the degree, but more on its individual offerings and how they apply to your desired career. In this regard, there are a few simple criteria to keep in mind, factors that can help make your choice of program a much simpler one.

Curriculum Differences
One of the most immediate ways to determine whether or not a program is right for you comes from an examination of the available coursework. Will the curriculum's core requirements help you build on what you already know and set the foundation for growth? Do the courses reflect skills you'd like to develop? Are there a number of electives available to make the program more flexible? Is an internship or workplace practicum requirement part of the program? These are all important things to note, as they can help you select a program that sets you on the path towards your specific goals.

Format and Schedule
Before you apply for a program, learn as much as you can about how the courses will be structured and when you'll need to be in class. The program should work within your schedule, allowing you to appropriately balance schoolwork with personal and professional responsibilities. For some students, making it to campus at certain times of day might be difficult, or take valuable time from their personal life.
The traditional, on-campus experience isn't the only way to access excellent academic programs. If you're a working professional with a busy schedule, it's definitely worth considering a course of study offered in an online format. Not only will this broaden your selection, allowing you to interact with institutions and faculty members around the country, but you'll be able to complete the program on your own schedule and without commuting to campus. This can make for a stronger, more flexible learning experience that meshes with your life.

Cost
When evaluating the cost of a master's of sport management program, whether online or not, it might be tempting to go for the most affordable option. In some cases, this may be the best choice. However, if you have the means or can procure funding, examine what each program offers in exchange for their tuition. Aiming for the smallest tuition rate may save money, but the program itself will likely not benefit from expert faculty or a comprehensive learning experience.
Job Opportunities
Making new connections is a significant element of graduate education, with many opportunities available to connect to both fellow students and faculty. To further these opportunities, look for programs with faculty members that may become an interesting connection to the industry.
While identifying a structure and curriculum that encourages interaction between students is important, finding a program with ties to a strong athletic program can foster new possibilities, as well. Learning from faculty who've contributed to the creation of a national brand can be an excellent advantage on resumes, not to mention that it can pave the way for networking within the program itself.
About UF's Online M.S. in Sport Management
The online Master of Science in Sport Management from University of Florida readies students to take on complex financial and administrative challenges in the world of sports. The comprehensive sport management curriculum can help you develop your skills as a multifaceted, multi-talented professional who is ready to break into the field of sport representation.
Through core courses that include Sport Marketing and Management and Leadership in Sport and electives such as Sports Sponsorship, Sport Psychology, and What Drives Winning Leaders, you will gain in-depth knowledge of the business of sports.
Students can choose to build their own academic experiences by selecting five courses (15 credits) from our array of elective offerings. This allows students to create a unique curriculum that fits their interests, ensuring that their educational journey is strategically aligned with their professional goals. You'll also have the option to choose from four pre-designed specializations including:
Athlete Development was created especially for those who want to work directly with athletes to successfully balance the demands of their sport with the demands of living a lucrative and productive life off the field.
High Performance Coaching is intended for students who wish to pursue positions in managerial coaching or athletic administration, showing them how to foster the best performances in athletes.
Sport Law teaches lawyers and administrators about legal principles that can have important applications in the world of athletics, including insurance, real estate finance, insurance, and fair competition.
Director of Racquet Sports is ideal for racquet sports enthusiasts seeking leadership roles. Whether you aim to run a racquet sports business or oversee a country club or league, this concentration equips you with vital skills in sport management, program development, sport marketing, budgeting, human relations, and more.
Students can also choose to build their own academic experiences by selecting five courses (15 credits) from our array of elective offerings. This allows students to create a unique curriculum that fits their interests, ensuring that their educational journey is strategically aligned with their professional goals.
Request Information
To learn more about the University of Florida's online masters in sport management and download a free brochure, fill out the fields below. You can also call (877) 665-3860 to speak to one of our Academic Assistants about the program.
*
All Fields are Required. Your Privacy is Protected.
The University of Florida respects your right to privacy. By submitting this form, you consent to receive emails and calls from a representative of the University of Florida, which may include the use of automated technology. Consent is needed to contact you, but is not a requirement to register or enroll.