How UF Athletics Entered the Top Ten: Q&A with Career Coach Jeremy Foley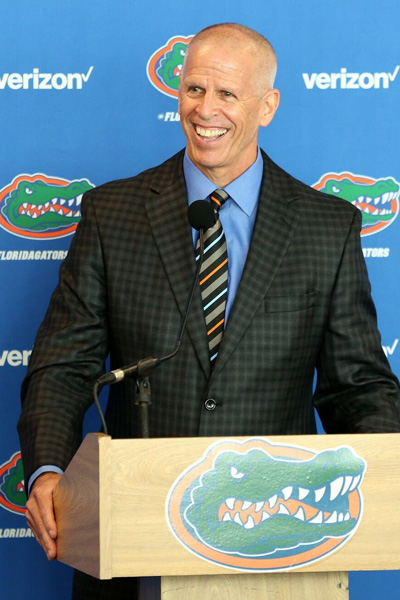 Behind every perfectly executed play, behind every victory and behind every post-victory celebration is a story about transforming potential. The players and teams that win games spend countless hours in practice, elevating their performance to the absolute best it can be. The organizations that promote and support them must also transform themselves, by hiring and supporting strong decision makers and leaders.
Related Content: UF Sport Management Career Guide
The same is true for entire college athletics franchises. None of the campus-wide pride, the networks of alumni or the brand recognition would be possible without years, often decades, of transformation.
It should come as no surprise, then, that the University of Florida's story is also one of incredible transformation.
The Gator Nation Rises: Interview with UF Sport Career Coach Jeremy Foley
For more than a decade through the 1960s and 70s, the Florida Gators' record was inconsistent, often falling below 50% win rates for their seasons, and only a handful of season win rates above 80%. The Gator journey, however, resulted in a transformation that led to incredible success through the 90s and beyond, with win rates often exceeding 80% and 90%.
Our athletics program has carried that momentum through to today, and shared that success across multiple sports— in fact, ours is the only program that has achieved the top 10 in each of the past 33 National All-Sport Standings.
We spoke with UF career coach and Athletic Director Emeritus Jeremy Foley to get his perspective on how this transformation took place, and to talk about his long-running sport management career, which began as an internship with the UF ticket office.
"I was part of a journey with an athletic program — one that had only pockets of true success 40 years ago — that is now a top 10 program in the country," Foley said. "If you have a conversation about the top athletic programs today, you have to include University of Florida, and I'm proud to have been a part of that."
1. Can you talk about what drew you to University of Florida? What about it made you happy to stay?
To be honest, I really just enjoyed the work, and I was happy here.
That's the thing about this industry. It's a lot of hard work and you have to put in the time, so it better be something you love. If you don't love what you do, you're going to be miserable. Even when I was an intern, I enjoyed coming to work every day. I enjoyed being in the office, and I enjoyed being around the people here.
2. Did you have a vision for what you wanted out of your career when you started? Has your career path changed from what you initially thought? If so, how?
I knew I wanted to be involved in sports, but I didn't have a specific plan; I didn't think about being an athletic director when I first started. I just kept doing what I enjoyed, and I let my career take me wherever it made sense. One of the things I will say is that my career went by incredibly fast because of how much I loved doing what I was doing and the great people I got to work with.
3. Who do you look up to for inspiration? Who are some of the people who have influenced your career path?
It's hard to think of one person who has inspired me because so many people influenced my perspective. One of the most important things that I focused on when I was younger was how leaders made decisions. What I learned from that was immensely valuable. As a leader, you have to make a lot of tough decisions, and you have to hold yourself accountable for them.
4. What is the difference between an average leader and a great leader?
You need a thick skin, you have to be able to make decisions and you have to be able to own them. Being an excellent leader isn't about avoiding failure— if you never fail, it means you always played it safe and always lived toward the middle. If you have a willingness to fail sometimes, you can achieve amazing things.
What I learned from watching great leaders is that you have to be able to learn from failure and apply those lessons to the next tough decision.
I've worked with some excellent coaches, and I think that their fanatical drive for success is what makes them different. They're not just concerned with succeeding once but replicating their success over a period of time.
5. What does success mean for you? Has your definition of success changed over time?
Some people think success is only about winning games, but, for me, success is more than that. Winning is still important, but how you win and your consistency in winning are equally important. You can't be successful if you're not doing things the right way or if you're not treating people right.
You can't be successful if you don't have high ethical standards, and, on a college campus, you can't be successful if you put yourself or one program ahead of the rest of the university. Valuing all sports is also part of success. There are colleges where men's coaches don't like women's coaches; I don't think that's success.
You also have to do it over a period of time. You have to be able to win as well as do all the stuff I just talked about. And you have to be able to duplicate it. If you're going to be successful in athletics, you can't just do it once.
That doesn't mean you win every game. But success is about having people look at you and your programs collectively and recognizing that the entire culture is built on consistently achieving excellence.
6. What are some of the biggest challenges sport management professionals face today?
It's an incredibly competitive field these days. When I wanted to get into sports, people told me to get a master's degree in sports administration, and there were two schools that offered it. Now, there's a lot more and many more options. There's a lot of people like myself who get in it and they don't like to leave, because you're on a roller coaster in a really good way.
People also really need to understand the time demands of the field. Sports get played on nights, weekends and over the holidays. As my career moved forward, as I moved up, I got busier and busier. People really need to understand that going in.
The world is also changing a lot. Not everyone wants to attend games in-person. There's an entire culture around watching them on TV. People need to be aware of those shifts and how to be successful as the habits of fans change.
7. What's one piece of advice you'd give to someone just starting out?
Don't get discouraged. There are challenges, sure, but the rewards from doing something you love and seeing your hard work pay off outweigh the risks. The other big thing is that you have to develop an outstanding work ethic. If you think you already have a great work ethic, push yourself harder.
The best coaches I met were the ones that worked harder than anyone else. They made hundreds of recruiting trips, phone calls and they made themselves the hardest working people anyone around them knew.
8. What is the deadliest sin for sport management professionals?
The deadliest sin is trying to win at all costs. If you're involved in that kind of thing at any level or you think the ends always justify the means, in the world we live in today, you're done. It goes back to what I said before about success. These days, you need to do the job with honesty and integrity. You have to stay true to your values and what you really stand for.

About UF's Online M.S. in Sport Management
The online Master of Science in Sport Management from University of Florida readies professionals to take on complex financial and administrative challenges in the world of sports. The comprehensive sport management curriculum can help you develop the leadership abilities and administrative proficiency necessary to advance your career. Students can customize their education by taking electives in their areas of interest or choosing between optional specializations in:
Athlete Development readies graduates to counsel players on striking a healthy balance between their physical performance and mental and financial well-being in positions like athletic director or director of player engagement.
High Performance Coaching is intended for students who wish to pursue positions in managerial coaching or athletic administration, showing them how to foster the best performances in athletes.
Sport Law teaches lawyers and administrators about legal principles that can have important applications in the world of athletics, including insurance, real estate finance, insurance, and fair competition.
Request Information
To learn more about the University of Florida's online masters in sport management and download a free brochure, fill out the fields below. You can also call (877) 665-3860 to speak to one of our Academic Assistants about the program.
*
All Fields are Required. Your Privacy is Protected.
The University of Florida respects your right to privacy. By submitting this form, you consent to receive emails and calls from a representative of the University of Florida, which may include the use of automated technology. Consent is needed to contact you, but is not a requirement to register or enroll.