UF's Online Master of Science in Sport Management has a new career coach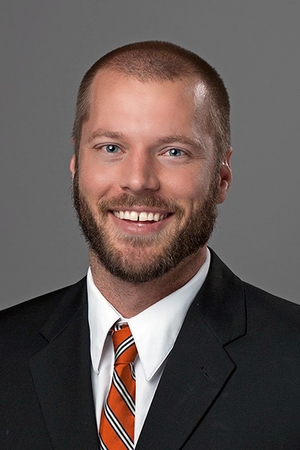 Learning to navigate the competitive job market shouldn't wait until after graduation. The University of Florida is committed to ensuring students have established goals and confidence in their career path long before graduation day. That's why we are excited to introduce Craig Schmitt, PhD, the new director of engaged learning & outreach for the online Master of Science in Sport Management (OSM) program. Dr. Schmitt leads a professional and career development sequence for his students who are involved in The Training Room, an elective academic advising course in the OSM.
"I'm a big believer in having a goal and pointing that big ship in a specific direction," says Dr. Schmitt, who brings an individualized approach to goal setting and career planning to our online learners.
Dr. Schmitt meets with distance learners one-on-one via Skype or, if possible, in-person to let students articulate their goals for the program and their career. While participation in the professional and career development sequence after meeting with Dr. Schmitt is optional, distance learners are strongly encouraged to take advantage of this opportunity.
Allison, now in her second semester of the career sequence, says the ongoing, insightful guidance she's received from Dr. Schmitt has been practical and beneficial.
"This career sequence is not something every school offers and it sets me apart in that way," says Allison, who works with Dr. Schmitt to improve her networking skills. "People can tell you a million times that you need to network, but Dr. Schmitt taught me specifically how to direct a conversation so I stand out among my peers."
Distance learners enrolled in the career sequence are exposed to unique networking opportunities with sport management professionals eager to share their knowledge and experience.
"UF has developed a strong alumni network that I use to match students with professionals who have similar career interests," says Dr. Schmitt. "Students learn what it's like to work in their desired field and how they can prepare for a similar opportunity."
Allison, who currently works as a graduate assistant with the UF women's basketball team, was recently partnered with an alumnus working with the Boise State men's basketball team.
"We talked about what he did to get his position, how to handle potential coaching changes, and how I can get in touch if I have questions in the future," says Allison.
Her classmate, Ben, who is transitioning his career into the sport industry, says he also benefits from Dr. Schmitt's networking guidance.
"I talked to a UF career coordinator just last week about her experience in the field and it honestly made me even more interested in pursuing a career in sport," says Ben. "The coordinator, Dr. Schmitt, and everyone here at UF are here to help and really put me in the best position to succeed not only while I'm in the program, but after I graduate."
Making sure his online students are in a position to reach their goals includes Dr. Schmitt's initiatives both on and offline and on and off campus. Online learners were extended invitations to attend the 13th annual PAADS Athlete Development Summit at the Daytona International Speedway this past June.
A dozen of the online students, including Ben, were in attendance to interact face-to-face with classmates, professors, and industry experts.
"It's a great feeling to be surrounded by so many professionals in the sport field," says Ben. "It's almost surreal to feel like I was standing there in this area I've always dreamed about."
Attaining career dreams in the sport management field is typically a post-graduation benchmark, but Ben and Allison agree that UF is committed to helping them achieve their goals not just after the program, but while they're still in it.
"UF will do whatever it takes to make my dreams a reality in the field of sport," says Allison. "What better place to have experiential learning than the greatest athletic school in the country."
About UF's Online M.S. in Sport Management
The online Master of Science in Sport Management from University of Florida readies professionals to take on complex financial and administrative challenges in the world of sports. The comprehensive sport management curriculum can help you develop the leadership abilities and administrative proficiency necessary to advance your career. Students can customize their education by taking electives in their areas of interest or choosing between optional specializations in:
Athlete Development readies graduates to counsel players on striking a healthy balance between their physical performance and mental and financial well-being in positions like athletic director or director of player engagement.
High Performance Coaching is intended for students who wish to pursue positions in managerial coaching or athletic administration, showing them how to foster the best performances in athletes.
Sport Law teaches lawyers and administrators about legal principles that can have important applications in the world of athletics, including insurance, real estate finance, insurance, and fair competition.
Request Information
To learn more about the University of Florida's online masters in sport management and download a free brochure, fill out the fields below. You can also call (877) 665-3860 to speak to one of our Academic Assistants about the program.
*
All Fields are Required. Your Privacy is Protected.
The University of Florida respects your right to privacy. By submitting this form, you consent to receive emails and calls from a representative of the University of Florida, which may include the use of automated technology. Consent is needed to contact you, but is not a requirement to register or enroll.